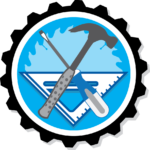 Technical and traditional, innovative and high tech, all the working shops within ZIPPER JUNCTION™ function together to build anything that can imagined! They are also the main driver for the creative culture we intend to foster, the meat and potatoes.
The shops within ZIPPER JUNCTION™ will include, but are certainly not limited to, woodworking, metal fabrication, machining, automobile repair/modification/creation/restoration, plastic fabrication/molding, electrical systems design/construction, computer design, hydraulic system design/construction, pneumatic system design/construction, robotics, and many many other disciplines. All the shops will be able to create, make, and generally transform ideas into things, useful things, and innovative things. We will have them all within this complex! From the literal drawing board on paper and within a computer to the spray booth to put on the finishing touches, we will have a place where we can make anything, teach about making it, and more importantly innovate new ways to make things. There will be a place related to all these shops where people can come to work, collaborate, watch, and learn.
There will be a core staff of teachers and artisans who will call this place home as well as a system to have a revolving door for others to come and gather everything from information to hands on experience. This area is the engine of ZIPPER JUNCTION™; all the other features and places integrate into these very special spaces in one way or another. We call this special relationship cross pollination, the ability of all these specialties and other activities to feed each other, compliment each other, and generally add up to a total that exceeds the simple sum of all the parts.